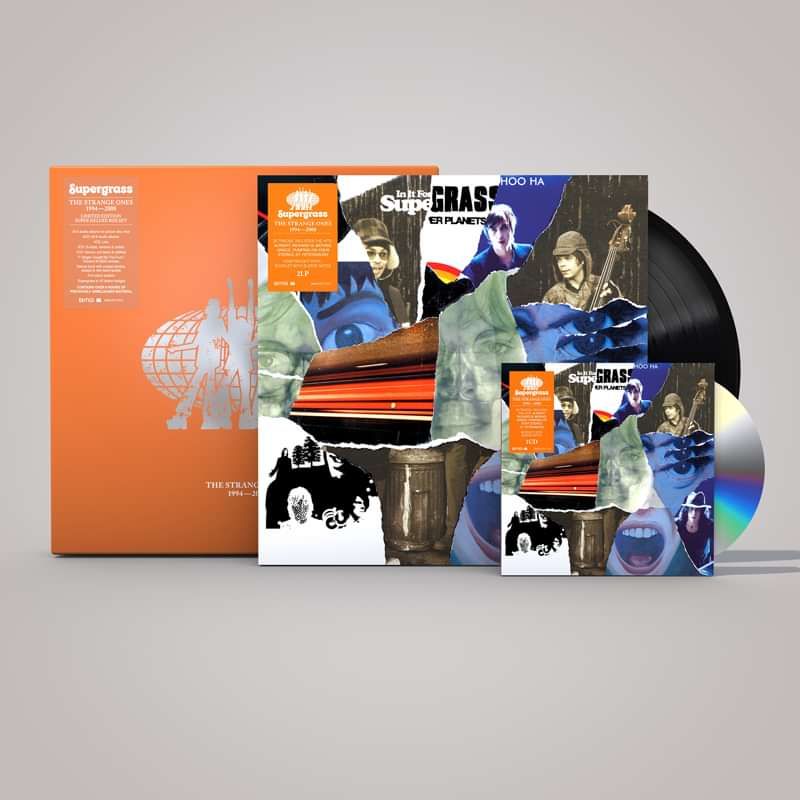 Deluxe Box Set + 2LP + CD Bundle
This bundle also includes: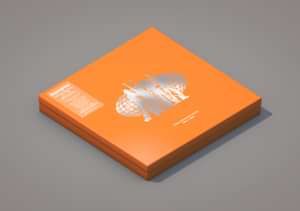 Supergrass – The Strange Ones, 1994-2008 [Super Deluxe Box Set]
This comprehensive box set, marking the 25th anniversary of the I Should Coco album, is a celebration of Supergrass' incredible career. It contains their 6 original albums on picture disc LP and CD, bonus CDs of unreleased live material, B-sides, remixes, rarities, studio out-takes, demos, acoustic versions, oddities, new mixes, a deluxe book, posters and button badges. Features over 6 hours of previously unreleased audio material.
2-part, rigid, 12" x 12" x 3" box, matte laminate outer finish with hot foil cover text, containing:
6 LPs
- 6 x original albums as picture discs: I SHOULD COCO (UK #1, 1995) / IN IT FOR THE MONEY (UK #2, 1997) / SUPERGRASS (UK #3, 1999) / LIFE ON OTHER PLANETS (UK #9, 2002) / ROAD TO ROUEN (UK #9, 2005) / DIAMOND HOO HA (UK #19, 2008)
13 CDs
- 1 x 6CD set - All 6 original studio albums in new digipack
- 1 x 4CD set - Live (5 hours of previously unreleased, career-spanning performances: radio sessions, full live shows and acoustic sets)
- 1 x 2CD set - Remixes, B-sides, acoustic versions and other rarities
- 1 x 1CD set - Demos, out-takes and oddities (all previously unreleased)

7" single
- Caught By The Fuzz / Richard III 2020 Remixes
Book
- 12" sq, 52 pages. Story of each album, written by separate journalists: Everett True, Charles Shaar Murray, Sylvia Patterson, Andrew Male, Adam Sweeting and Paul Moody. Quotes from new band interviews with Matt Everitt. Unseen photos and memorabilia.
Colour posters x 4
Supergrass is 10 - button badges x 8
CD tracklists:
ROOTS & VINES (DEMOS, OUT-TAKES AND ODDITIES)
Sitting Up Straight (4 Track Demo)

Caught By The Fuzz (4 Track Demo)

Lose It (4 Track Demo)

Richard III (4 Track Demo)

Out Of The Blue (Studio Recording Monitor Mix)

Moving (8 Track Demo)

Sun Hits The Sky (Acoustic Radio Session, Studio Brussel, 2002)

Stinkfinger (Studio Recording Monitor Mix)

Dark Star (Studio Recording)

Brecon Beacons (Rehearsal Room Demo)

Can't Get Up (Mini-Disc)

Funniest Thing (4 Track Demo)

Orbiting Around The World (Mini-Disc)

Sad Girl (Radio Kerrang! 105.2, Birmingham, 2005)

Road To Rouen (Studio Outtake)

Fin (Live At UEA, Norwich, 2005)

Car Crash (Rehearsal Room Demo)

Next To You (Studio Recording Monitor Mix)

Bury My Heart (Demo)

345 (Demo)

Tronic (Demo)

RARITIES, REMIXES & B-SIDES
CD1 1. Caught By The Fuzz (Backbeat Version) (from 'Caught By The Fuzz')
2. Strange Ones (Backbeat Version) (from 'Caught By The Fuzz')
3. Caught By The Fuzz (Acoustic) (from 'Caught By The Fuzz')
4. Odd? (from 'Mansize Rooster')
5. Wait For The Sun (from 'Lenny')
6. Sex! (from 'Lenny')
7. Condition (from 'Alright/Time')
8. Je Suis Votre Papa Sucre (from 'Alright/Time')
9. Melanie Davis (from 'Going Out')
10. Sometimes We're Very Sad (from 'Richard III')
11. Nothing More's Gonna Get In My Way (from 'Richard III')
12. 20ft Halo (from 'Richard III')
13. Sun Hits The Sky (Bentley Rhythm Ace Remix) (from 'Sun Hits The Sky')
14. Some Girls Are Bigger Than Others (from 'Sun Hits The Sky')
15. Don't Be Cruel (from 'Late In The Day')
16. The Animal (from 'Late In The Day')
17. We Still Need More (Than Anyone Can Give) (from 'Late In The Day')

CD2
1. We Still Need More (Than Anyone Can Give) (Dust Brothers Recording ) (from 'Dead Man On Campus' Soundtrack)
2. Sick (from 'Pumping On Your Stereo')
3. What A Shame (from 'Pumping On Your Stereo')

4. Lucky (No Fear) (from 'Pumping On Your Stereo')
5. You'll Never Walk Again (from 'Pumping On Your Stereo')
6. You Too Can Play Alright (from 'Moving')
7. Believer (from 'Moving')
8. Faraway (Acoustic) (from 'Moving')
9. Oracle (from 'Mike Bassett: England Manager' OST)

10. Velvetine (from 'Grace')
11. Electric Cowboy (from 'Grace')

12. Tishing In Windows (Kicking Down Doors) (from 'Grace')

13. That Old Song (from 'Grace')
14. The Loner (from 'Seen The Light')
15. I Told The Truth (from 'Seen The Light')

16. Everytime (from 'Rush Hour Soul')
17. Kiss Of Life (Tom Tom Club Mix) (from 'Kiss Of Life')
18. We Dream Of This (from 'Kiss Of Life')
19. Fin (Dave Eringa Alternative Mix) (from 'Fin')
20. Car Crash (from 'Rebel In You')
21. I Believe In Love (from 'Sofa Of My Lethargy')

LIVE

DISC 1

Mark Radcliffe BBC Radio Session, 24th October 1994

Mark Radcliffe Introduction

Strange Ones

Time

Interview

Sitting Up Straight

Lenny

RDS Arena Dublin, 22nd June 1996

Shane O'Donoghue Introduction

Lenny

Caught By The Fuzz

Sitting Up Straight

I'd Like To Know

Odd?

Lose It

Richard III

Strange Ones

Time

Alright

We're Not Supposed To

She's So Loose

Melanie Davis

Going Out

DISC 2
Glastonbury Festival, 26th June 1997

I'd Like To Know

Richard III

Sitting Up Straight

Cheapskate

Time

Alright

Odd?

In It For The Money

Tonight

You Can See Me

Caught By The Fuzz

Going Out

It's Not Me

Sun Hits The Sky

Strange Ones

Lenny

Reading Festival, 29th August 1998

Out Of The Blue

Alright

In It For The Money

Richard III

Sun Hits The Sky

Going Out

DISC 3

T In The Park, 9th July 2000

Mary

Alright

Time

Jesus Came From Outta Space

Sick

Faraway

Sun Hits The Sky


Going Out

Caught By The Fuzz

Reading Festival, 25th August 2001

Steve Lamacq Introduction

Pumping On Your Stereo

Caught By The Fuzz

Moving

Can't Get Up

Beautiful People

Late In The Day

Lose It

Funniest Thing

Richard III

Going Out

Sun Hits The Sky

Lenny

DISC 4

Radio Kerrang! Session, 10th August 2005

St. Petersburg

Late In The Day

Seen The Light

Sitting Up Straight

Ronnie Scott's Jazz Club, London, 18th August 2005

Kiss Of Life

Tales Of Endurance (Parts 4, 5 & 6)

Roxy

Moving

Low C

Road To Rouen

Bullet

Sun Hits The Sky

Fin

Mary

Later with Jools Holland, 29th February 2008

Diamond Hoo Ha Man

Bad Blood

Rebel In You

Shepherd's Bush Empire, London, 10th December 2008

The Return Of...

Ghost Of A Friend

Outside

THE STUDIO ALBUMS THE STUDIO ALBUMS

DISC 1: I SHOULD COCO. 1. I'D LIKE TO KNOW 2. CAUGHT BY THE FUZZ 3. MANSIZE ROOSTER 4. ALRIGHT 5. LOSE IT 6. LENNY 7. STRANGE ONES 8. SITTING UP STRAIGHT 9. SHE'S SO LOOSE 10. WE'RE NOT SUPPOSED TO 11. TIME 12. SOFA (OF MY LETHARGY) 13. TIME TO GO

DISC 2: IN IT FOR THE MONEY. 1. IN IT FOR THE MONEY 2. RICHARD III 3. TONIGHT 4. LATE IN THE DAY 5. G-SONG 6. SUN HITS THE SKY 7. GOING OUT 8. IT'S NOT ME 9. CHEAPSKATE 10. YOU CAN SEE ME 11. HOLLOW LITTLE REIGN 12. SOMETIMES I MAKE YOU SAD

DISC 3: SUPERGRASS. 1. MOVING 2. YOUR LOVE 3. WHAT WENT WRONG (IN YOUR HEAD) 4. BEAUTIFUL PEOPLE 5. SHOTOVER HILL 6. EON 7. MARY 8. JESUS CAME FROM OUTTA SPACE 9. PUMPING ON YOUR STEREO 10. BORN AGAIN 11. FARAWAY 12. MAMA & PAPA

DISC 4: LIFE ON OTHER PLANETS. 1. ZA 2. RUSH HOUR SOUL 3. BRECON BEACONS 4. CAN'T GET UP 5. EVENING OF THE DAY 6. NEVER DONE NOTHING LIKE THAT BEFORE 7. FUNNIEST THING 8. GRACE 9. LA SONG 10. PROPHET 15 11. RUN

DISC 5: ROAD TO ROUEN. 1. TALES OF ENDURANCE (PARTS 4, 5 & 6) 2. ST. PETERSBURG 3. SAD GIRL 4. ROXY 5. COFFEE IN THE POT 6. ROAD TO ROUEN 7. KICK IN THE TEETH 8. LOW C 9. FIN

DISC 6: DIAMOND HOO HA. 1. DIAMOND HOO HA MAN 2. BAD BLOOD 3. REBEL IN YOU 4. WHEN I NEEDED YOU 5. 345 6. THE RETURN OF… 7. ROUGH KNUCKLES 8. GHOST OF A FRIEND 9. WHISKEY & GREEN TEA 10. OUTSIDE 11. BUTTERFLY

This bundle also includes: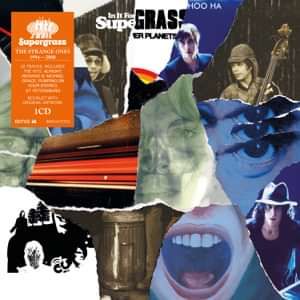 Supergrass – The Strange Ones, 1994-2008 [CD]
Gatefold CD
- 4 panel card softpack
- Compiled by Supergrass
- 22 career-spanning tracks: 9 top 20 hits, including 5 top 10s

Tracklist:
1 Diamond Hoo Ha Man
2 Outside
3 Rebel In You
4 Tales Of Endurance (Parts 4, 5 & 6)
5 St. Petersburg
6 Fin
7 Kiss Of Life
8 Brecon Beacons
9 Seen The Light
10 Grace
11 Moving
12 Mary
13 Beautiful People
14 Pumping On Your Stereo
15 In It For The Money
16 Richard III
17 Late In The Day
18 Sun Hits The Sky
19 Mansize Rooster
20 Lenny
21 Alright
22 Caught By The Fuzz

This bundle also includes: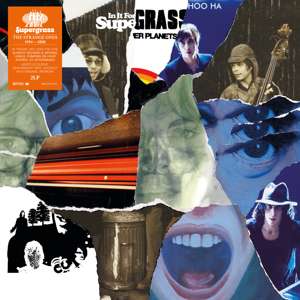 Supergrass – The Strange Ones, 1994-2008 [2LP]
Please note that this item will be shipped via a tracked service
Sold Out – more due in soon
Gatefold 2LP
- Heavyweight vinyl
- Compiled by Supergrass
- 26 career-spanning tracks: 9 top 20 hits, including 5 top 10s

Tracklist:

Side 1
1 Diamond Hoo Ha Man
2 Bad Blood
3 Outside
4 Rebel In You
5 Tales Of Endurance (Parts 4, 5 & 6)
6 St. Petersburg

Side 2
1 Fin
2 Kiss Of Life
3 Brecon Beacons
4 Rush Hour Soul
5 Seen The Light
6 Grace
7 Moving

Side 3
1 Mary
2 Beautiful People
3 Pumping On Your Stereo
4 In It For The Money
5 Richard III
6 Late In The Day

Side 4
1 Sun Hits The Sky
2 She's So Loose
3 Mansize Rooster
4 Strange Ones
5 Lenny
6 Alright
7 Caught By The Fuzz